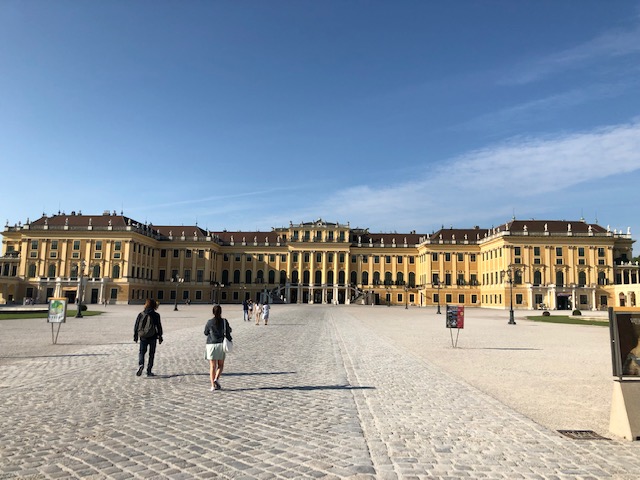 The adventure begins!  Follow along with Angie Pope on her Adventures by Disney journey in Austria and Czech Republic. From Prague to Vienna with a couple of stops along the way…here we go!
You cannot go to this region without having a beer or two! The Czech Republic is the largest consumer of beer in the world. They say their country has been taken over by other countries so many times, they now opt to go to the pub and enjoy a pint or a few and then let them know when the next country comes in to invade. They have been their own democratic nation since 1993.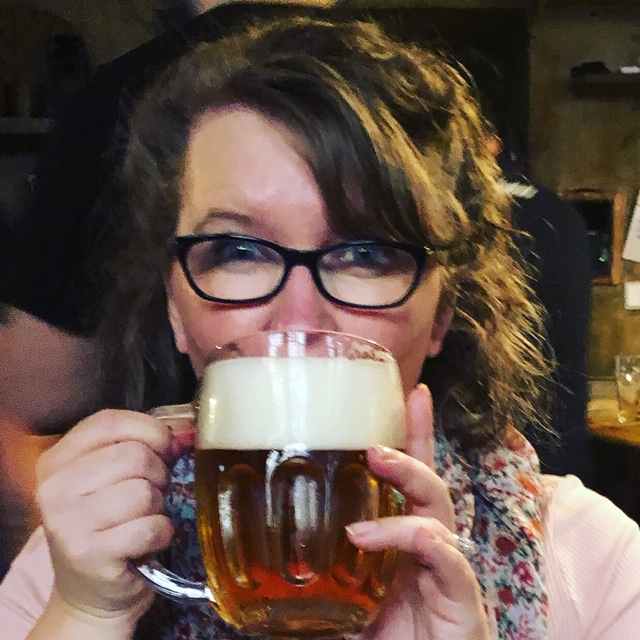 This is the Gazebo from the Sound of Music. Cue "I am 16 going on 17" tunes!  With Adventures by Disney we were allowed inside the Gazebo – imagine the magic. They are the only tour company allowed to go inside, but you wouldn't know that without working with a travel advisor. Several in Angie's group were leaping from bench to bench inside the gazebo. It was pure Disney! A little Pixie Dust!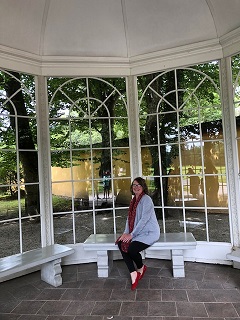 An incredibly memorable day for Angie was the day that she went into the Bavarian Alps and climbed and climbed 350 steps (not stairs) until she reached a cable car that took her up a little further, and then another 350 steps to reach the ice cave – you can see the overlook at the cave entrance. Then once inside the cave, her guide Jonathan took her up another 700 stairs inside the cave where it was amazing. What an accomplishment for Angie and something she never thought she could do.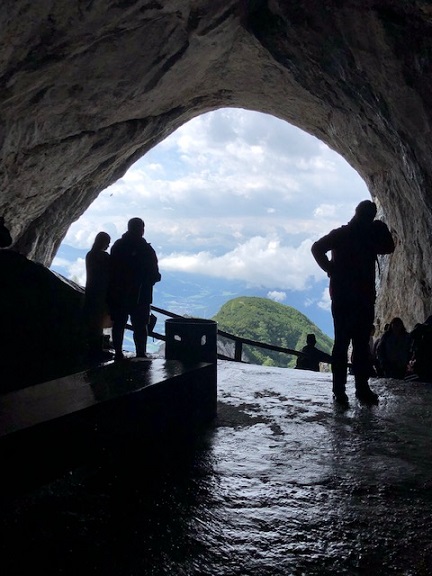 For those that did not want to participate in the ice cave – they had an alternate adventure at a farm.  Those adventurers made cheese and played with the baby animals.  So it was a fun day all around, no matter your plans!
The Salt Mines – The attire is comical but keeps you from ruining your clothes. The Salt Mines are fascinating as they are fun for both kids and adults. There are slides inside the mines that take you from area to area as they tell the story of the salt miners. They were small men who worked in the mines, and are the inspiration for another Disney favorite: Snow White and the Seven Dwarfs!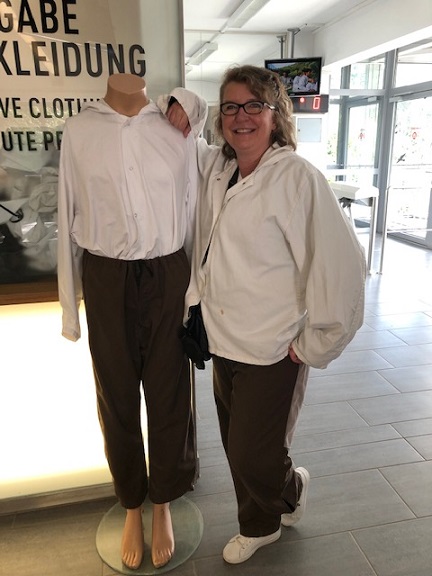 How can you be in this region without visiting a brewery? Angie visited the oldest brewery that is still operational. It has been making beer since 1475 and was recently acquired by Heineken. While this brewery normally does not give tours to Americans (those who work in the brewery speak little English), Adventures by Disney once again worked its magic to make it happen!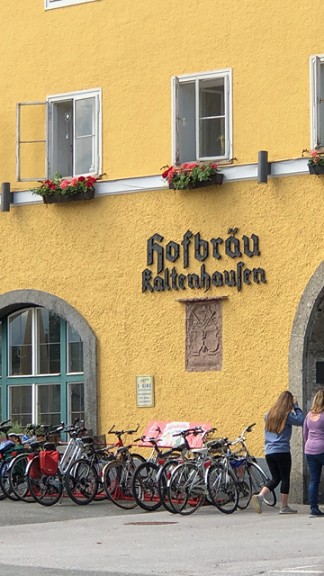 The Empire – Such a little country, Austria. Many forget that at one time it was the center of a vast empire: The Hapsburgs. Not only was it ruled by a woman, Maria Theresa (better known for being the mother of Marie Antoinette), but she ruled for a very long time. Below is her palace in Vienna. She also had a residence in downtown Vienna, so this palace is more of a vacation retreat.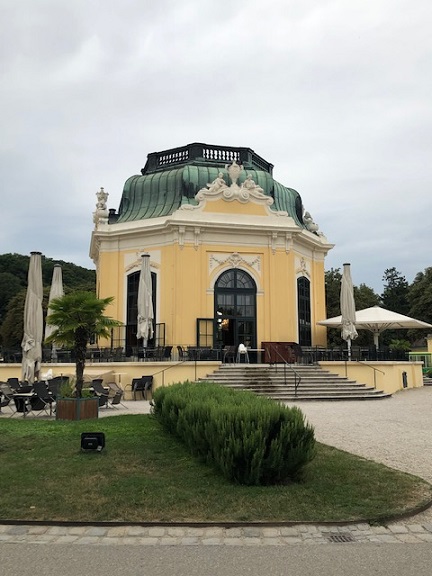 The Disney Magic – well that can be seen in the pictures at the oldest zoo in the world: the Vienna Zoo. With a little Disney Magic, Angie was able to take a small tour after hours and see the big animals up close and personal. No zoom was required to capture the beautiful photos! Angie enjoyed dinner in Maria Theresa's palace, as shown in the image above, creating a perfect Disney experience!
Strudel – You cannot go to a country like Austria and not experience an apple strudel. At the Palace in Vienna they have a bakery where long lines form to see this demonstration and taste the wonderful strudel. With Adventures by Disney, Angie was able to skip the line and didn't have to wait to be served coffee and a strudel. She went to the bakery and strudel was already in place and coffee was at the ready. She enjoyed the strudel while watching the demonstration. It was flawless and the baker made it look as if it was something Angie could do from home, even putting a child to work to prove just how easy it is.
UPDATE: Since Angie has returned, she bought toaster strudel. To say that she misses Vienna is an understatement!
Lastly, Angie's experience was particularly magical because of the Adventures by Disney guides – pictured below. Incredible is an understatement. They were diligent about making sure everyone at every age (ranging from eight to 88-years-old on the tour) had an unforgettable experience; from dressing in Sound of Music garb to wearing lederhosen.  She would get on the bus and laugh as Winston (who was from Vienna) would say "Guten Tag Adventurers" every morning, even when some mornings were early! The guides were always ready to go: ready to have them learn, laugh and experience everything they could in 10 days.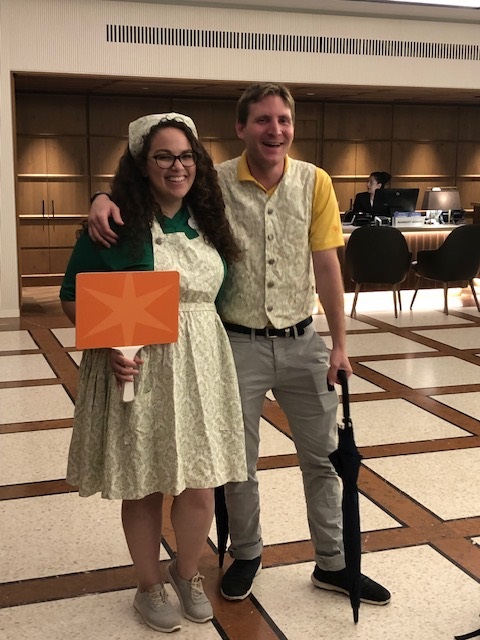 Adventures by Disney is the Disney Magic without the mouse. Incredible indeed!
Authored by Angie Pope, Destination Wedding Expert, at Travel Leaders / Destinations Unlimited, who visited Austria and the Czech Republic in August 2019 to learn more about the destinations for our agency clients.
To learn more about her journey or any Adventures by Disney vacation, please contact Travel Leaders / Destinations Unlimited. Visit here to learn more about Disney vacations.