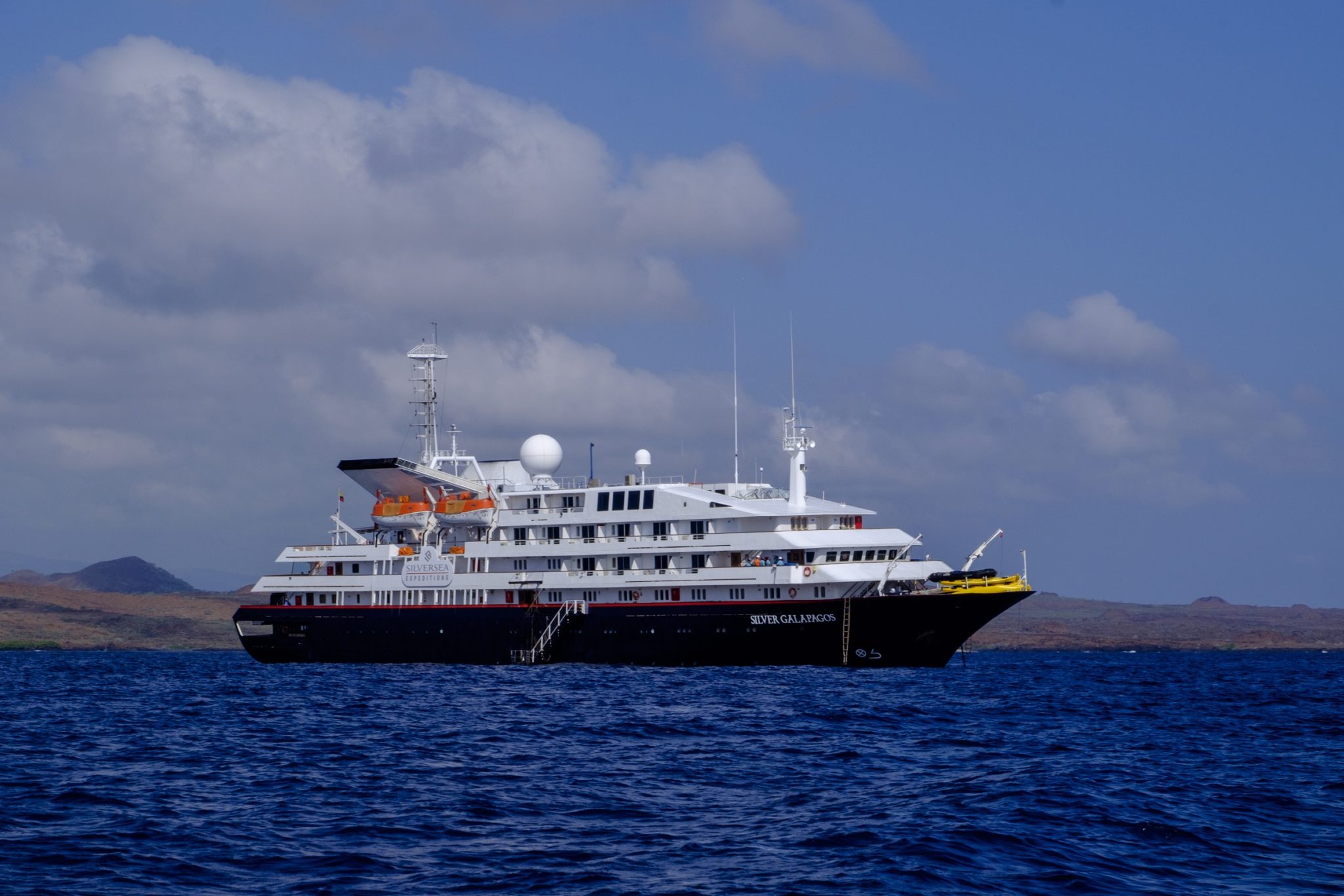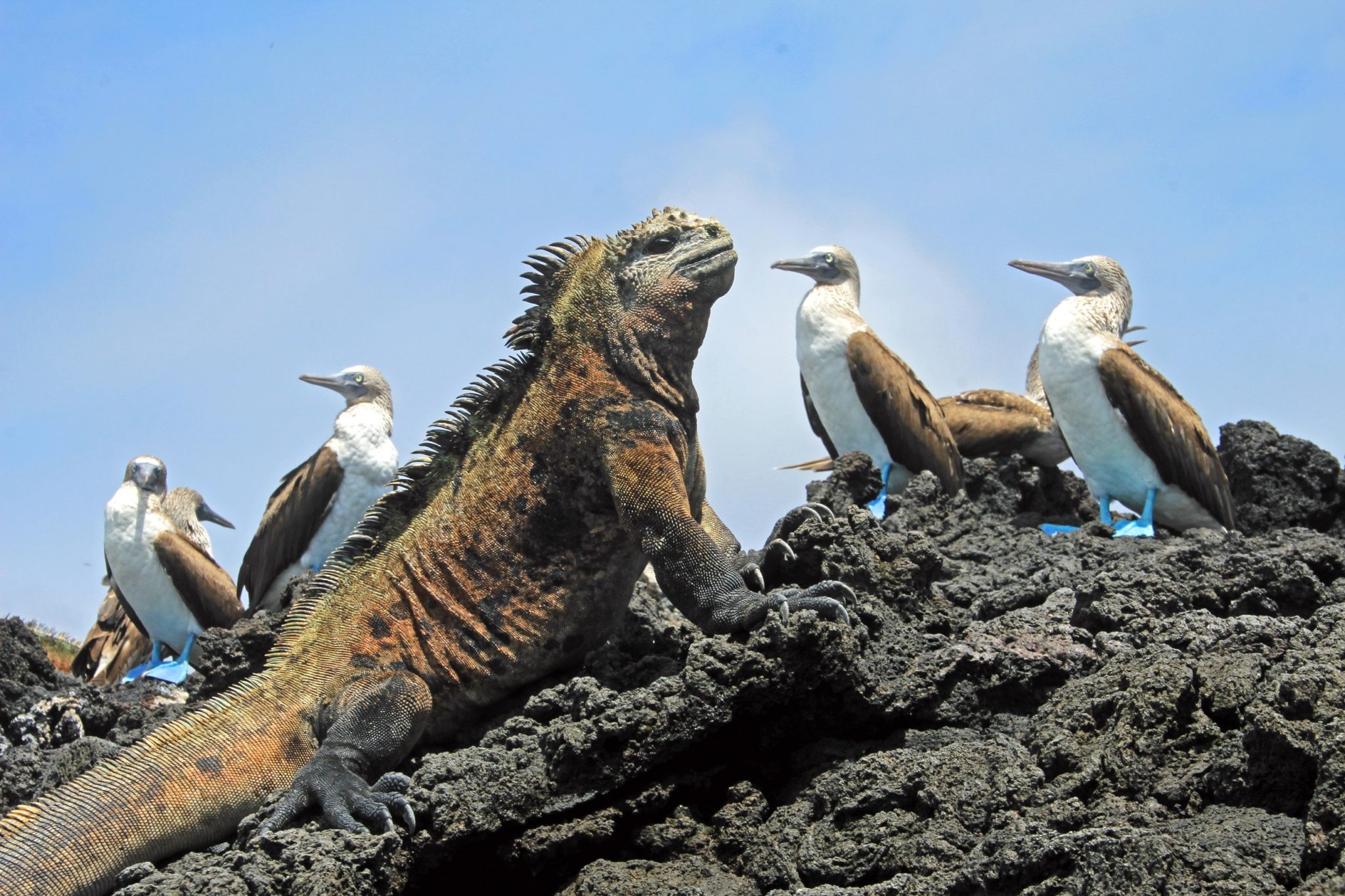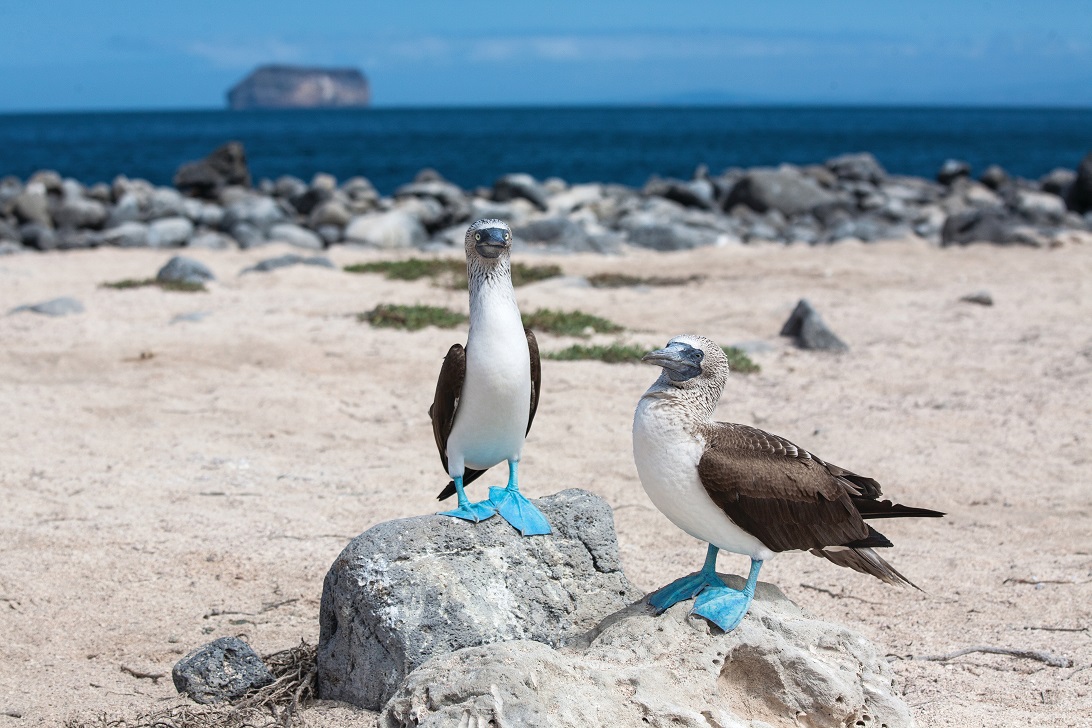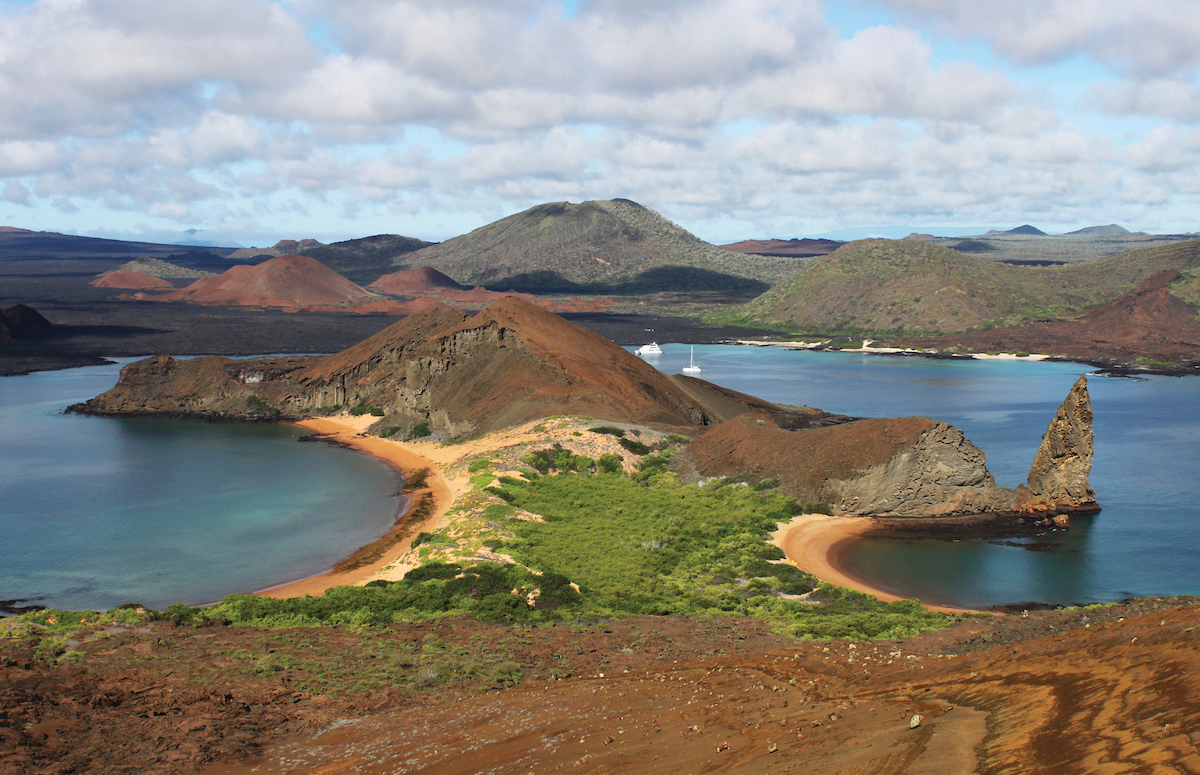 Galápagos Cruise Expedition with Duane and Anne Jasper
Dates: February 21 - March 3, 2019
Duration: 11 daysDays
Join Agency Owners Duane and Anne Jasper for a cruise expedition of the Galápagos Islands. This all-inclusive cruise expedition includes a visit to "Bird Island," home to over 30 bird species, sea lion observation, a look at the famed giant tortoises and the red-footed and blue-footed Boobies. It is a nature-lovers paradise combined with the excellent hospitality that Silversea Cruises provides on expeditions. The winter getaway departs on February 21, 2019 and returns on March 3, 2019. With opportunities to snorkel in the tranquil, clear waters, photograph the colorful marine iguanas and hike an extinct volcano, this expedition is not to be missed!
THURSDAY, FEBRUARY 21
FLY TO QUITO, ECUADOR
Upon arrival in Quito you will check into your hotel room for two nights. The remainder of the afternoon and evening is yours to explore.
FRIDAY, FEBRUARY 22
FLY TO QUITO, ECUADOR
 Wake up feeling refreshed following a day of travel. Enjoy an included, historic city tour of Quito. (B)
SATURDAY, FEBRUARY 23
QUITO - BALTRA ISLAND - ISLA DAPHNE GRANDE
 You will transfer from your hotel to the Quito airport for your flight to Baltra. There you will embark on the Silver Galapagos for your exciting Silversea Expedition. After setting sail, you will be introduced to your Expedition Team. The Silver Galapagos will sail for the island of Daphne to do a circumnavigation. From the ship we will watch for Nazca and Blue-footed Boobies, frigatebirds, Red-billed Tropicbirds, Brown Noddies and Brown Pelicans, as well as Swallow-tailed Gulls. In the evening enjoy the first of many memorable meals in The Restaurant onboard. (B, L, D)
SUNDAY, FEBRUARY 24
GENOVASA ISLAND
Today you visit Genovesa Island. This island is dubbed "Bird Island", a name it lives up to in a spectacular way. Huge colonies of seabirds create a birdwatcher's paradise. Take a walk on the sandy beach of Darwin Bay, home to one of the world's largest Red-footed Booby nesting colonies. Yellow-crowned Night Herons feed near tidal lagoons, while hundreds of Swallow-tailed Gulls nest in the cliffs. Climb "Prince Philip's Steps", a steep path named after the Duke of Edinburgh. You will be well rewarded by seeing the remarkable spectacle of Nazca Boobies nesting on the ground and the Great Frigatebirds with their fiery red sacs. After a morning walk, you will have a chance to enjoy your first snorkeling excursion and experience the diverse, underwater wonderland that surrounds the island. You will also have the opportunity to kayak around Darwin Bay — which is actually a flooded caldera —and admire the island's craggy landscape. (B, L, D)
MONDAY, FEBRUARY 25
SEYMOUR NORTE ISLAND - SANTIAGO  ISLAND
North Seymour is a small island filled with a spectacular profusion of wildlife — above and below the sea. Two species of frigatebirds nest here; one of which, the Magnificent Frigatebird, is an opportunistic breeder. You will witness Galápagos sea lions, blue-footed Boobies, Marine iguanas, Galapagos land iguanas, Brown Pelicans and Brown Noddies. You will walk through this spectacular landscape, and afterwards have an opportunity to go snorkeling. Coming ashore on the east coast of Santiago Island, you will see the lava flows that date back to 1897. Along the way there will be time to snorkel. (B, L, D)
TUESDAY, FEBRUARY 26
RÁBIDA ISLAND -  EDEN ISLET
Rabida is a small picturesque island with red rock cliffs and maroon sand. Here you can see Darwin's finches, lava lizards and Galápagos Mockingbirds. Take a walk along the cliffs where the red rocks, green Palo Santo trees and the blue turquoise sea create landscapes of stunning contrast. After a short hike there will be an opportunity to swim and admire the sea lions, snoozing along the shore. Sail to Eden Islet for snorkeling, kayaking and Zodiac rides. Eden is a small island that is home to Great Blue Herons, sea lions, and Blue-footed Boobies. The small tidal areas can be a resting place for you to see reef sharks, eagle rays and green turtles. This is an excellent spot for kayaking. (B, L, D)
WEDNESDAY, FEBRUARY 27
SAN CRISTOBAL ISLAND
The most emblematic animal in the archipelago is the Galápagos giant tortoise. Over-hunting and competition with introduced animals has left its numbers close to extinction. You'll see these ancient reptiles and their babies, and learn more about current conservation efforts at Galapaguera Cerro Colorado on San Cristóbal. San Cristóbal is one of the oldest islands in Galápagos. The Punta Pitt landscape of this island is where you may see three species of boobies here: Red-footed, Blue-footed and Nazca. After a wet landing on an olivine beach where sea lions doze, we'll climb up a ravine to view one of the most scenic panoramas in the archipelago. The San Cristóbal or Chatham lava lizards guide your way. (B, L, D)
THURSDAY, FEBRUARY 28
ESPANOLA ISLAND
Today, you will visit Espanola, the oldest island in the Galápagos . Don't miss a chance to swim with sea lions from the gorgeous beach at Gardner Bay. Relax on the white sands of this idyllic beach where you may spy some iguanas on the shore. Further out you can snorkel with large schools of colorful tropical fish and or you may wish to experience this from a kayak. In the afternoon you will visit Punta Suárez at the western point of Española. Swallow-tailed Gulls, Nazca Boobies and Blue-footed Boobies can easily be seen. Mockingbirds, doves, and occasional Galápagos Hawks can also be found, as well as sea lions and colorful marine iguanas. (B, L, D)
FRIDAY, MARCH 1
SANTA CRUZ ISLAND
You will cruise overnight to Santa Cruz, an island in the central part of the archipelago. During your visit to Puerto Ayora, you will visit the Fausto Llerena Breeding Center to see two types of tortoises: dome-shaped and saddle-backed, as well as young giant tortoises up to 5 years old that are waiting to be returned to their home island. Towards the end of the morning, there will be time to do some sightseeing and shopping in Puerto Ayora. You will next visit South Plaza, a small island located close to the eastern coast of Santa Cruz. South Plaza is known for its amazing colony of Galápagos land iguanas, along with its beautiful giant prickly pear cactus and sesuvium plant, and a large nesting colony of Swallow-tailed Gulls make this small island an excellent stop. (B, L, D)
SATURDAY, MARCH 2
SAN CRISTOBAL ISLAND - GUAYAQUIL– USA
Following breakfast, disembark Silver Galapagos for your return to Guayaquil. Upon arrival in Guyaquil, you will have the use of a hotel day room prior to an evening U.S.A. return flight. (B)
SUNDAY, MARCH 3
U.S.A. ARRIVAL OR OPTIONAL POST-NIGHTS
You will arrive in the United States.*
*Optional post-night tours can be arranged to Peru.
| | |
| --- | --- |
| STATEROOM CATEGORY | GROUP PRICE* |
| Silver Suite | $13,698 |
| Deluxe Veranda Suite | $11,198 |
| Veranda Suite | $10,798 |
| Terrace Suite | $9,498 |
| Explorer Suite | $8,298 |
*Fares are per person only, based on double occupancy, subject to availability and capacity controlled. 
Deposit:  25% of fare per person is required to confirm your reservation.
Final Payment:  Due on or before October 28, 2018.
Cancellation Policy:  Deposit is non-refundable. After October 28, 2018, trip cost is non-refundable. Travel insurance is recommended.
AMERICAN EXPRESS PLATINUM PERK
If you have an American Express Platinum Card, enjoy $150 shipboard credit/person. Please let Travel Leaders know your American Express information upon booking.
Included:
Fully Escorted by Duane and Anne Jasper
9-night accommodations, taxes and luggage handling plus day room in Guayaquil
All-Inclusive dining while on ship and meals as listed on itinerary
Group travel documents, one travel tote bag
Gratuities onboard cruise including hotel service gratuities
Personalized service
Beverages in-suite and throughout the ship—select wines, premium spirits, specialty coffees and soft drinks, plus your own tailored mini-bar
In-suite dining and room service
Enrichment lectures by highly qualified Expeditions team
Guided Zodiac, land and sea tours, and shoreside activities led by the Expeditions team
National Park, Ingala Transit Card and porterage fees
Certified Galapagos National Park guides and Expedition Lecturers on the voyage
Guided field studies ashore and enrichment
Not included:
Airfare
Airline baggage fees
Personal items
Meals not listed in itinerary
Travel Insurance
Optional post tour will be offered
Airport transfers
SPECIAL NOTE
Travelers on this tour should be in good health. This rigorous tour requires you to be in good physical condition with good balance as terrain varies with uneven rocks, slippery surfaces and transportation by Zodiac boats. Certain components of this trip may not be able to accommodate those with special needs. We regret that we cannot provide individual assistance to guests with walking, dining or other personal needs.
TRAVEL INSURANCE
Travel insurance is highly recommended and available through Travel Leaders / Destinations Unlimited. If the insurance premium is paid within 14 days of deposit, pre-existing conditions are covered, some limitations apply. If you decline the insurance offered by the agency, we strongly advise the purchase of travel insurance through another broker.
ENTRY INTO ECUADOR
All passengers are required to have a passport valid through October 1, 2019. Non-US citizens must have a valid passport and advise Travel Leaders/ Destinations Unlimited of your nationality at the time of deposit.
GROUP PHOTO POLICY
Travel Leaders / Destinations Unlimited reserves the right to take photos during any part of the tour and to use them for promotional purposes. By booking a reservation with Travel Leaders / Destinations Unlimited, group members agree to allow their images to be used in such photos. Group members who prefer that their images not be used are asked to advise their group escort at the beginning of the tour.
SILVERSEA DISCLOSURE
Expedition highlights and wildlife listed in the brochure are possible experiences only and cannot be guaranteed. Your Expedition Leader and Captain will work together to ensure opportunities for adventure and exploration are the best possible, taking into account the prevailing weather, wildlife activity and ice conditions. Expedition Team members scheduled for this voyage are subject to change or cancellation.
RESPONSIBILITY
Travel Leaders / Destinations Unlimited, escorts and hosts, selected air carrier, selected hotel, ground operators, Silversea Cruises, the shipowner, and their affiliates, shall have no liability for loss or damage to baggage and property, or for personal injuries or delay due to the acts or omissions of any carrier, hotel operator, restaurant, or any other supplier of services or facilities caused by weather, strike, war, quarantine or for any other reason or by the shipowner, and is governed by the terms and conditions printed on the cruise contract which is issued to all guests. Travel Leaders / Destinations Unlimited acts only as an agent for suppliers in selling travel-related services, accepting reservations, and booking services that are not directly supplied by this travel agency (i.e. air and ground transportation, hotel accommodations, meals, tours, cruises, etc).
The itinerary, as published, will be followed as closely as possible. If, it is rendered necessary to make changes in this itinerary, the above named providers will not be responsible for any loss or expense caused guests by reason of such change. The above named providers reserve the right to decline to accept or retain any person, whether with or without cause, at any time.  It is understood and agreed that a refund may not be made to guests who do not complete a cruise for any cause whatsoever. Please note that information on this flyer is based on details available at the time of printing and is subject to change. Please read this contract carefully. Any payment constitutes your acceptance of these terms and conditions.