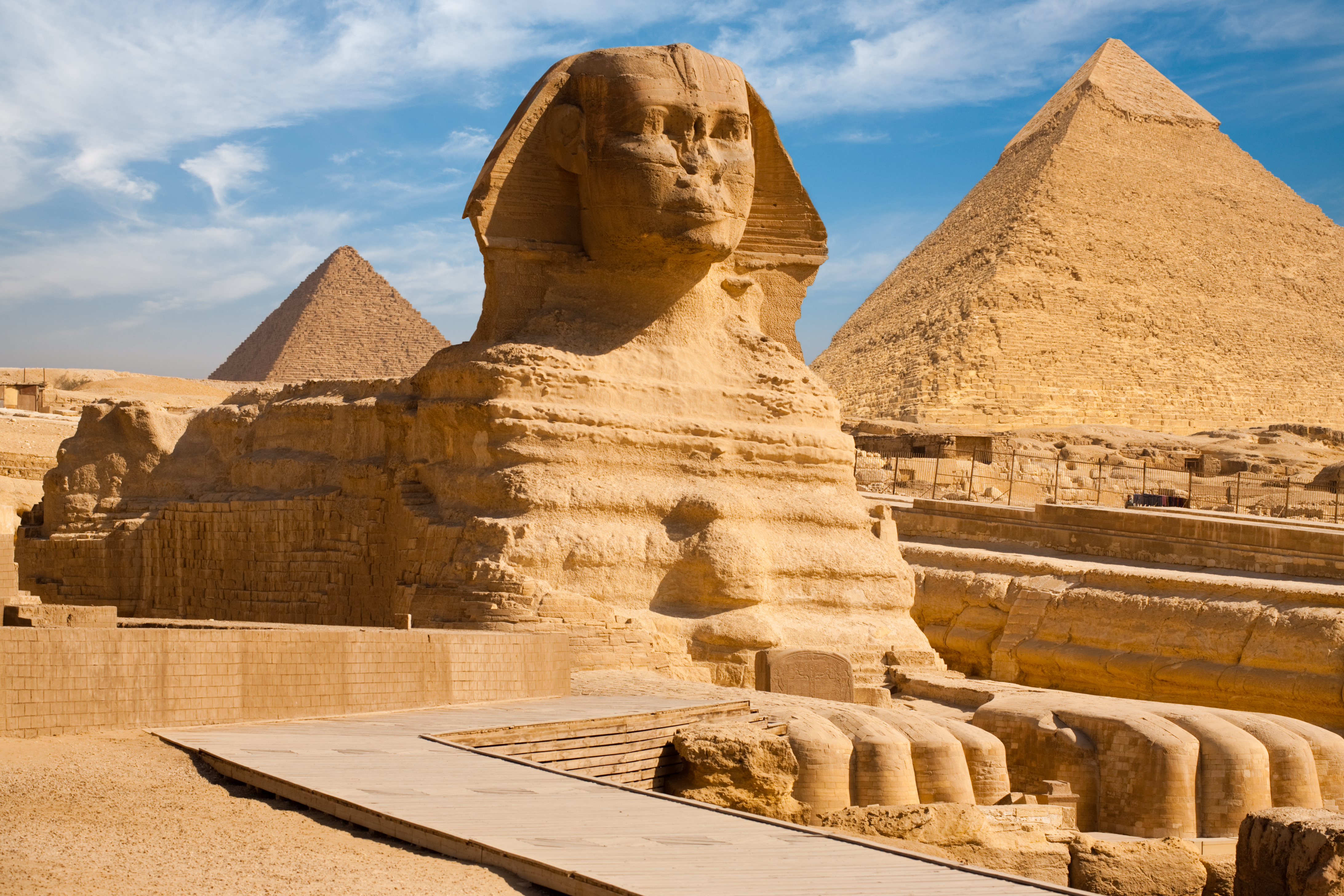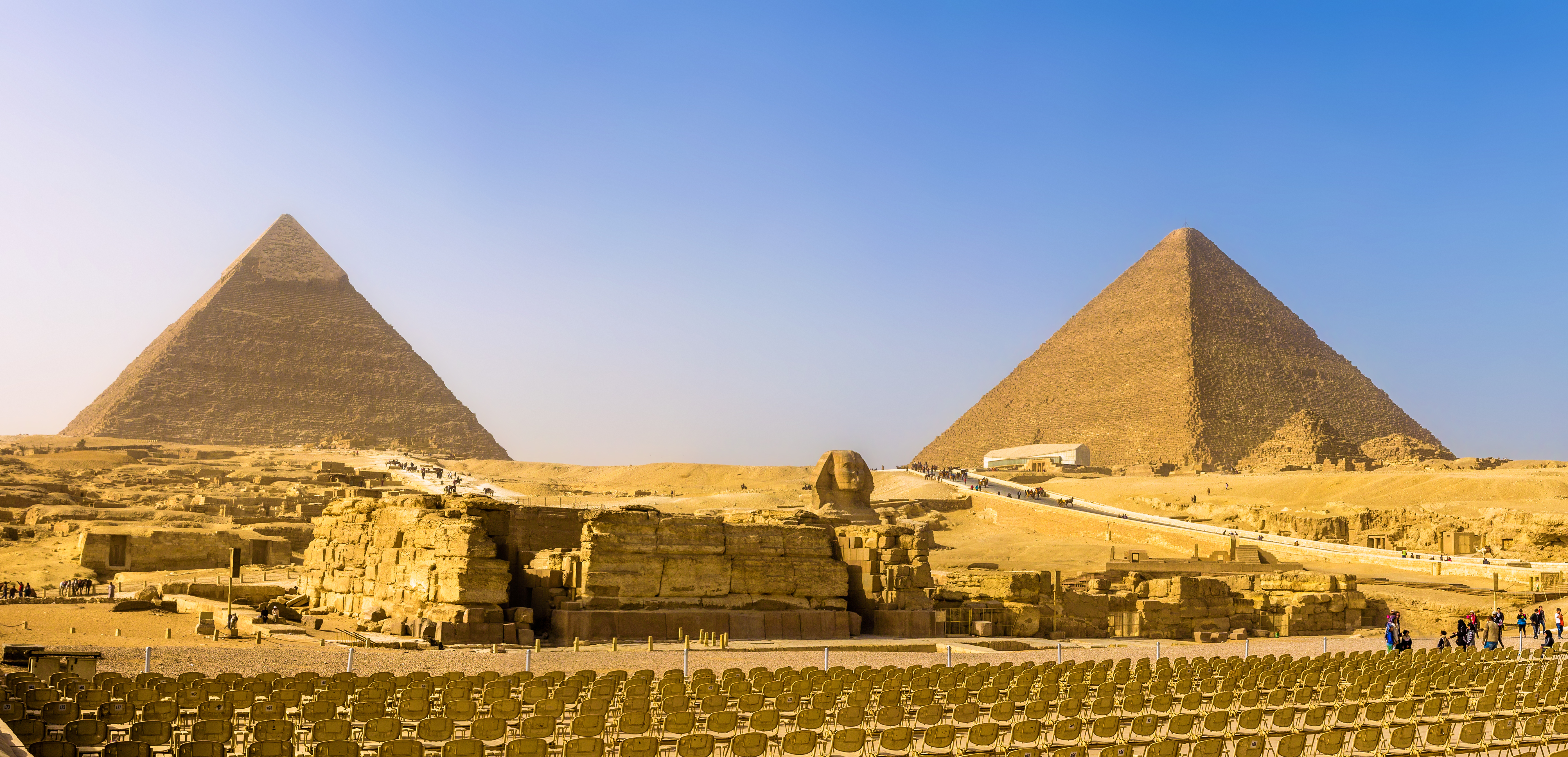 WMT's Egypt & Nile Cruise with WMT's Ron and Pat Gonder
Dates: March 11-21, 2021
Duration: 11 Days
Dating 1500 BC, we go back in time of ancient pharaohs and pyramids. Stand at the foot of the Great Pyramids and the Sphinx, see the treasures of King Tut, visit the ancient temples and monuments of pharaohs and queens that will leave you in awe. Cruising the Nile will transport you to a dream come true experience that will last a lifetime!
THURSDAY, MARCH 11
OVERNIGHT FLIGHT TO CAIRO
Begin your travels with an overnight flight from the U.S.A. to Cairo.
FRIDAY, MARCH 12
ARRIVE IN CAIRO
Welcome to Cairo!  We transfer to our hotel – a true oasis is the desert! This French-luxury hotel will be our home for three nights for you to unwind or have some poolside relaxation. Be surrounded by amazing views in the hotel's many lounges and restaurants of French, Italian, Oriental or Moroccan cuisines.
SATURDAY, MARCH 13
CAIRO
Our day is free for exploring prior to meeting at 6 pm, with traveling companions for a welcome dinner at the hotel. (D)
SUNDAY, MARCH 14
CAIRO
Guided sightseeing in and around Africa's largest metropolis starts at the Egyptian Museum. See Tutankhamun's fabulous treasures, an exciting first encounter with the splendor of three millennia of Egyptian civilization. Next, depart for Giza. Take a close-up look at the enigmatic Sphinx and the daunting Great Pyramids. Cheops, with an original height of 496 feet, is the most colossal pyramid ever built. (B)
MONDAY, MARCH 15
CAIRO-LUXOR-EMBARKATION
Board the flight to Luxor, where we will embark your cruise ship to enjoy lunch. In the afternoon, guided sightseeing features visits to Karnak Templte and Luxor Temple. (B, L, D)
TUESDAY, MARCH 16
CRUISING: LUXOR-EDFU
This morning, guided sightseeing focuses on the Valley of Kings & Queens on the West Bank of the Nile, where generations of pharaohs and nobles were buried in great splendor in crypts cut into the cliffs. Sixty-two royal tombs have been uncovered so far, of which only the tomb of Tutankhamun was nearly inviolated when discovered in 1922. Visit Deir El-Bahri, Queen Hatshepsut's monumental rock temple, before returning to your ship where a Captain's welcome cocktail party awaits you. Sail to Edfu. (B, L, D)
WEDNESDAY, MARCH 17
CRUISING: EDFU-KOM OMBO-ASWAN
In Edfu, visit the Temple of Horus with its menacing black stone statue of the falcon god. Built in the time of Cleopatra about 2,000 years ago, it is recent by Egyptian standards and beautifully preserved. Have lunch on board and continue your leisurely cruise down Egypt's river of destiny. Dock at Kom Ombo for a short walk to visit its bluff-top Temple dedicated to the crocodile and falcon gods. You can haggle for bargains in the local market. This evening, enjoy a Galabeya party on board. (B, L, D)
THURSDAY, MARCH 18
CRUISING: ASWAN
Marvel at the gigantic Aswan High Dam, completed in 1970. Next, stop at the ancient Granite Quarries to see the famous unfinished obelisk and visit the Philae Temple of Isis, transplanted from the submerged island of Philae. Highlight is a Felucca Sail around Kitchener's Island and the Mausoleum of Aga Khan. A Nubian Folklore Show is the perfect way to celebrate your Nile Cruise. (B, L, D)
FRIDAY, MARCH 19
DISEMBARKATION: ASWAN
After disembarkation, enjoy some free time in Aswan. An optional excursion to stunning Abu Simbel is available where you can step thousands of years back in time on this exciting visit to the twin rock temples or Abu Simbel, one of Egypt's most cherished ancient wonders. (B)
SATURDAY, MARCH 20
ASWAN-CAIRO
Board our flight to Cairo. This evening, a farewell dinner awaits at our hotel. (B, D)
SUNDAY, MARCH 21
CAIRO-FLY HOME
Our vacation ends with breakfast this morning. We will transfer to the airport for our flight home with new friends and wonderful memories. (B)
SPECIAL INCLUDED EXPERIENCES:
CAIRO: Visit the Egyptian Museum and the pyramids in Giza
LUXOR: Visit the Karnak Temple and Luxor Temple, Valley of the Kings and Queens
EDFU: Guided Temple of Horus visit
KOM OMBO: Guided temple visit
ASWAN: Visit the High Dam, the unfinished obelisk, and the Philae Temple of Isis; Felucca sail around Kitchener's Island and the Mausoleum of Aga Khan
Included:
Fully Escorted by Travel Leaders / Destinations Unlimited's Lori Nietert
9-night accommodations, taxes and luggage handling
Airfare within Egypt: Cairo to Luxor and Aswan to Cairo
Airport transfers
Luxury air-conditioned motorcoach transportation
Complimentary WiFi on motorcoach and in most hotels lobbies
Sightseeing and admissions as per the itinerary
9 full breakfasts (B), 4 lunches (L) and 6 dinners (D) as specified
Not included:
International Airfare
Airline Baggage Fees
Tips and Gratuities
Travel Insurance
Double occupancy: $3285 per person*
Single occupancy:  Pricing upon request
*New pricing as of 3/23/2020
Deposit:
Deposit of $750 per person is required to confirm your
reservation.
Final Payment:
Final Payment is due on or before December 1, 2020.
Cancellation Policy:
Deposit is nonrefundable.  After December 1, 2020, final payment is nonrefundable.
GROUP AIRFARE
Optional roundtrip group airfare out of Cedar Rapids will be available in May 2020.
TRAVEL INSURANCE
Travel insurance is highly recommended and available through Travel Leaders / Destinations Unlimited. If the insurance premium is paid within 14 days of deposit, pre-existing conditions are covered, some limitations apply. If you decline the insurance offered by the agency, we strongly advise the purchase of travel insurance through another broker.
GROUP PHOTO POLICY
Travel Leaders / Destinations Unlimited reserves the right to take photos during any part of the tour and to use them for promotional purposes. By booking a reservation with Travel Leaders / Destinations Unlimited, group members agree to allow their images to be used in such photos. Group members who prefer that their images not be used are asked to advise their group escort at the beginning of the tour.
INTERNATIONAL ENTRY
All passengers are required to have a passport valid through September 22, 2021. Non-US citizens must have a valid passport and advise Travel Leaders/ Destinations Unlimited of your nationality at the time of deposit.
RESPONSIBILITY
Travel Leaders / Destinations Unlimited, escorts and hosts, selected air carrier, selected hotel, ground operators, Globus and their affiliates, shall have no liability for loss or damage to baggage and property, or for personal injuries or delay due to the acts or omissions of any carrier, hotel operator, restaurant, or any other supplier of services or facilities caused by weather, strike, war, quarantine or for any other reason. Travel Leaders / Destinations Unlimited acts only as an agent for suppliers in selling travel-related services, accepting reservations, and booking services that are not directly supplied by this travel agency (i.e. air and ground transportation, hotel accommodations, meals, tours, etc).
The itinerary, as published, will be followed as closely as possible. If, it is rendered necessary to make changes in this itinerary, the above named providers will not be responsible for any loss or expense caused guests by reason of such change.  The above named providers reserve the right to decline to accept or retain any person, whether with or without cause, at any time.  It is understood and agreed that a refund may not be made to guests who do not complete a tour for any cause whatsoever.  Please note that information on this flyer is based on details available at the time of printing and is subject to change. Please read this contract carefully.  Any payment constitutes your acceptance of these terms and conditions.