Online Booking Tools
Your school's travelers and travel coordinators need a quick, convenient way to book their travel online, whether they're at their desktop or on the go with their mobile phone. To that end we offer industry-leading corporate online booking tools. In addition, we have on staff a certified Concur Travel administrator.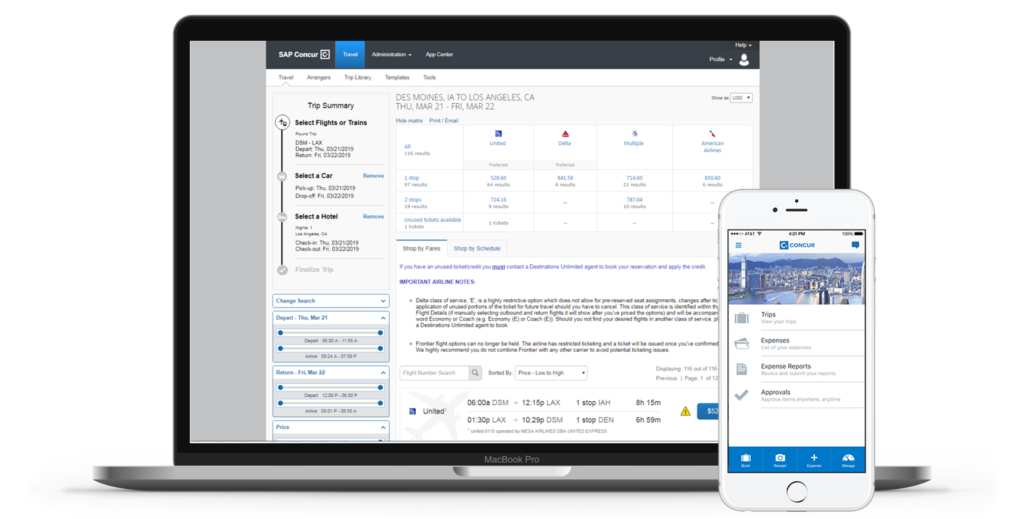 Designated Faculty, Staff and Athletics Advisor Teams
All higher education clients of Travel Leaders / Destinations Unlimited are assigned a designated advisor team to assist with offline travel reservations. With years of experience in international and domestic travel reservations, our advisors can assist your travelers with booking even the most complicated itineraries, as well as plan and book entire athletic team travel.
Contracted Rates
Your institution's contracted rates will be made available to your travelers and travel coordinators when they book using the online tool or with one of our advisors. Furthermore, the online tool can be custom-configured to advise your travelers who your institution's preferred suppliers are and with whom you have contracted rates. When booking through our advisors, faculty, staff and athletics will be provided with this same information.
Travel Leaders Negotiated Rates
Whether through our advisors or the online booking tool, your travelers will have access to our negotiated rates, which can serve as your school's primary discounts or supplement your institution's existing contracted rates.
Our Worldwide Hotel Program offers Best Available Rates at over 40,000 global hotel brands and independent properties, while our Select Hotels and Resorts is made up of over 1,200 of the world's most stunning hotels, spas and resorts, offering VIP amenities and discounts.
Our negotiated car rental programs provide mid-market rates with no volume commitment and can serve as your primary discounts or supplement your preferred vendor contracts.
Quality Control
Whether booked through an online booking tool or with one of our advisors, our mid-office system will perform a quality control scan on each of your school's travel reservations, including:
Low fare
Preferred air, car,and hotel suppliers
Policy compliance
Credit card information
Frequent flyer numbers
Our advisors follow up when a reservation does not pass the quality control scan.
Continuous Rate Check
As soon as you book your trip via the online tool or with one of our advisors, our mid-office system continually checks your air, car and hotel reservations for a lower rate. If the rate drops, we can rebook it at the lower rate, capturing the savings for your institution.
Direct Content
To offer your school's travelers the most robust selection of supplier inventory, in addition to global distribution system content, our systems are able to access supplier-direct content and bring it into the advisor and online booking environments to ensure your travelers have a comprehensive set of supplier content at their fingertips.