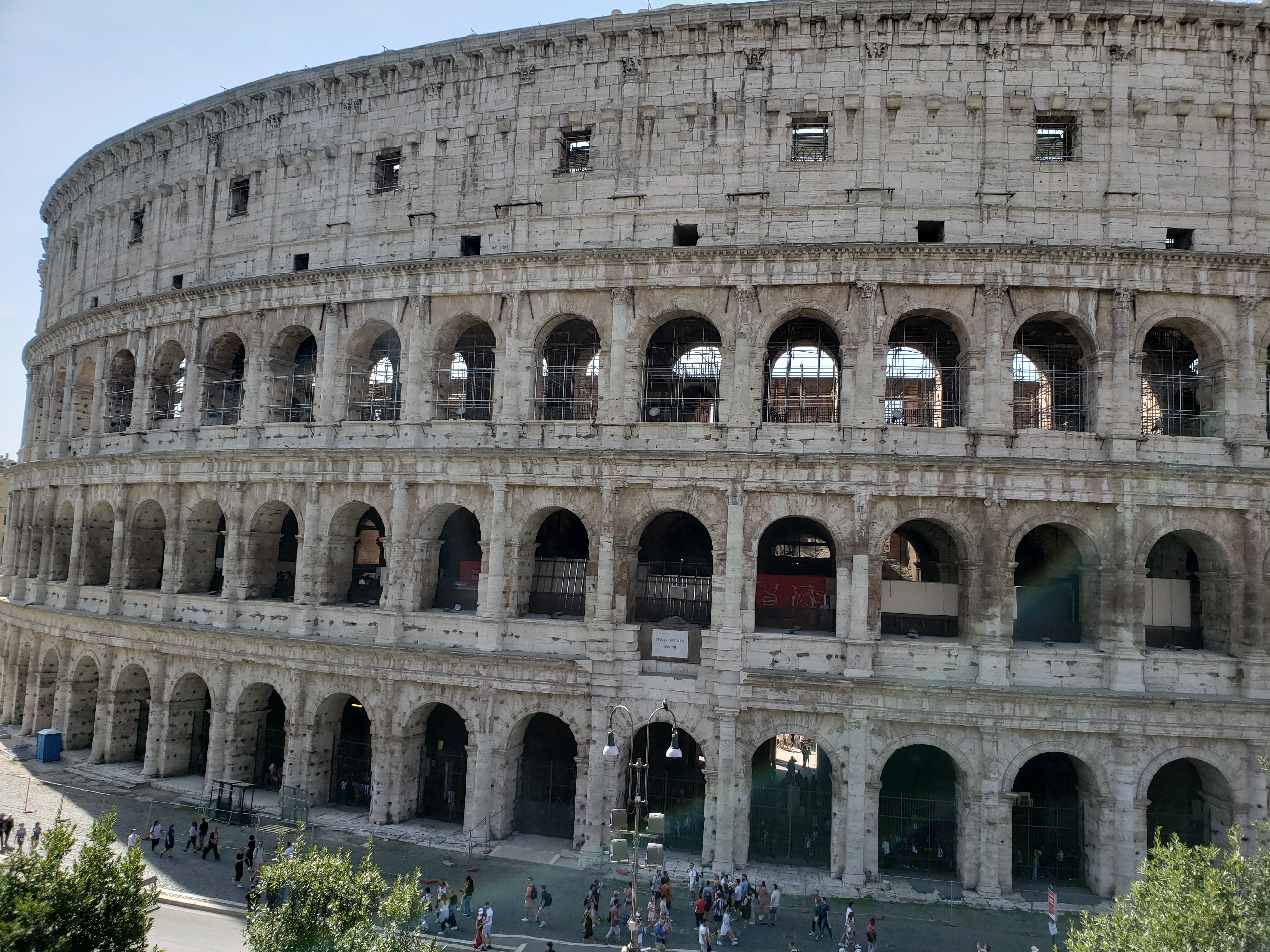 WMT's Southern Italy & Sicily
Dates: September 13-28, 2024
Be delighted during this tour between Byzantine and Roman culture, flanked by Norman and Italian influences, and in the midst of a cross-cultural wonderland. Your comparison of cobblestones, customs, and cuisine gets underway in Rome, heads down to the dramatic Sorrento Coast, and then kicks the fun from Italy's heel to its toe and all the way into the great melting pot of Sicily. From Italy's lower half to its largest island, ruins, resorts—a rich history awaits. Join Lori on this escorted group tour!
To request a full brochure – click HERE or call Lori 319-393-1359
FRIDAY, SEPTEMBER 13: OVERNIGHT FLIGHT TO ROME
Begin your travels with an overnight flight from the U.S.A. to Rome.
SATURDAY, SEPTEMBER 14: ARRIVE IN ROME
We arrive in Italy with plenty of free time to begin exploring Rome! Sightseeing options are endless in this amazing city with two days and 2 nights in Rome.
SUNDAY, SEPTEMBER 15: ROME
Our day is free to explore Rome, then that this afternoon we meet with our fellow travelers for a welcome dinner at a local restaurant. (B,D)
MONDAY, SEPTEMBER 16: CASTEL GANDOLFO–SORRENTO COAST
HOLY GROUNDS—Take a guided visit of the Papal Palace and the beautiful Barberini Gardens followed by lunch at Villa Barberini en route to the Sorrento Coast, our home for three nights. Stroll the spectacular grounds of the grand papal retreat of Castel Gandolfo, where Holy Fathers and world dignitaries walked and talked about faith and the world at large. (B,L)
TUESDAY, SEPTEMBER 17: SORRENTO COAST. EXCURSION TO CAPRI
COVES, CLIFFS & THE CLEAR BLUE SEA. Jetfoil ride to Capri. Take a funicular ride from the harbor to the village for guided sightseeing, including the Augustus Gardens. Nestled high above the sea on the island of Capri lie the exquisite Gardens of Augustus. This natural paradise promises 180-degree panoramic views and a kaleidoscope of botanical beauty on the cliffs overlooking island and the sapphire sea below. Free time for lunch. Free time in Sorrento. (B)
WEDNESDAY, SEPTEMBER 18: SORRENTO COAST. EXCURSION TO POMPEII AND NAPLES
A SLICE OF LIFE IN NAPLES. Take a guided walking tour of the excavations of Pompeii. Free time for lunch. Guided sightseeing includes an orientation drive on the panoramic road to Posillipo, Naples, a stop in Piazza Plebiscito, and a slice of Neapolitan pizza. Pizza was first delivered to the world after Neapolitans put tomatoes on flatbread. Baker Raffaele Esposito baked a pie with the hues of the Italian flag for Queen Margherita's visit to Naples with mozzarella cheese, red tomatoes, and basil, giving to the world the Neapolitan pizza we love today. (B,D)
THURSDAY, SEPTEMBER 19: SORRENTO COAST–BARI
CHILLING ON THE COAST. Free morning before departing for Bari. Puglia region forms the heel of Italy's "boot," with whitewashed towns, centuries-old pastoral landscapes, and the magnificent Mediterranean coastline. The vibrant port of Bari and its lovely Baroque architecture is a feast for the eyes and palate in the quintessential Italian style.  Overnight in Bari. (B)
FRIDAY, SEPTEMBER 20: BARI–LECCE–ALBEROBELLO AREA
SWEET STROLLS IN APULIA. Guided sightseeing includes a walking tour of Bari Vecchia, the city's oldest district, and San Nicola's Church.
LECCE Walking tour with a local guide includes the Duomo and Santa Croce Basilica.  Taste traditional pasticciotto (filled pastry) with almond-infused iced coffee. Traditional pasticciotto is the beloved cream-filled pastry of Lecce. Legend has it that this ubiquitous confection was invented by happy accident when chef Andrea Ascalone made too much cake batter. Sink your teeth into this heavenly pastry with an almond iced coffee to complete the experience. Then onto the Alberobello Area for our two night stay. (B,D)
SATURDAY, SEPTEMBER 21: ALBEROBELLO AREA
STONE HOUSES ALBEROBELLO. Guided walking tour includes a visit to a Trullo (traditional conical-roof house). Free time this afternoon and evening. The iconic round houses (Trulli) date back hundreds of years. These Trulli, constructed of dry stone and cone-shaped roofs include the oldest structures built in the 16th century and were used as grain storage or residences. Made without cement in the masonry techniques of the day, these whitewashed homes were easily disassembled to avoid property taxes when the collectors came calling! Today, you can stroll the streets lined with Trulli houses to see their conical rooftops decorated with symbols such as a cross, heart, astronomical symbol, or the evil eye. (B)
SUNDAY, SEPTEMBER 22: MATERA–PIZZO CALABRO–REGGIO CALABRIA
CREAMY DESSERTS & CAVE DWELLINGS. We will start our day with an orientation walk with panoramic view of the picturesque sassi house (cave houses) in Matera.  Take a scenic drive along the Gulf of Taranto. In Pizzo Calabro, enjoy a  traditional tartufo (ice cream dessert) tasting. The only thing better than a taste of gelato is having a few different tastes inside a chocolate-shelled truffle! When we reach Reggio Calabria, we will take a guided visit of the museum that houses the Bronzi di Riace (famous bronze warrior sculptures).  Overnight in Reggio Calabria. (B,D)
MONDAY, SEPTEMBER 23: REGGIO CALABRIA–TAORMINA RIVIERA
GRAND GREEK DRAMA. Ferry crossing on the Strait of Messina to Sicily to Taormina, our home for three nights. We will visit the ancient Greek theatre. Free time to explore. The ruins of Akragas remain Sicily's most amazing archaeological site. The impressively well-preserved Tempio della Concordia sits in spectacular setting upon a ridge where it served as a beacon for homecoming sailors and today draws enthralled visitors to revel in the remarkable Valley of the Temples. (B)
TUESDAY, SEPTEMBER 24; TAORMINA RIVIERA
THE PEARL OF THE MEDITERRANEAN. Today we have a free day in Taormina to enjoy, followed by dinner at a local restaurant. With a backdrop of the Volcanic Mount Etna and the Ionian Sea providing the cinematic setting for the resort town of Taormina, this Pearl of the Mediterranean is a picturesque coastal gem that will spoil you with its stunning beaches, village beauty, and sumptuous culinary specialties. (B,D)
WEDNESDAY, SEPTEMBER 25: TAORMINA RIVIERA
SICILIAN SUMMITS. Enjoy a free day. What better way to spend this free day than with an optional excursion to Mount Etna, Europe's tallest volcano and one of the most active in the world. Learn how in 1669, an eruption that lasted 112 days developed a record long stream of lava that destroyed the city of Catania. (B)
THURSDAY, SEPTEMBER 26: AGRIGENTO–PALERMO
TIMELESS TEMPLES. Take a guided walking tour of the Valley of Temples en route to Palermo, where we stay for two nights. The ruins of Akragas remain Sicily's most amazing archaeological site. The impressively well-preserved Tempio della Concordia sits in spectacular setting upon a ridge where it served as a beacon for homecoming sailors and today draws enthralled visitors to revel in the remarkable Valley of the Temples. (B)
FRIDAY, SEPTEMBER 27: PALERMO
CATHEDRALS & COCKTAILS. Guided sightseeing includes the Church of Immacolata and a visit to the cathedral. Scenic drive to Monreale for a panoramic view of the Conca d'Oro and a visit to the Norman Cathedral. Bid farewell to Italy with a traditional cocktail Aperitivo (pre-dinner cocktail) at a noble palace followed by a farewell dinner at a local restaurant. They say aperitivo is life.  Alla salute! (B,D)
SATURDAY, SEPTEMBER 28: PALERMO-FLY HOME
Our vacation ends with breakfast this morning. We transfer to the airport for our flight home with new friends and wonderful memories. (B)
UNESCO World Heritage Sites can be seen or visited on this vacation:
Arab-Norman cathedral of Monreale
Archeological area of Agrigento
Archeological Site of Pompeii
Historic Centre of Naples
Historic Centre of Rome - various properties Vatican City
The Sassi of Matera (See only)
The Trulli of Alberobello
Included:
Fully Escorted by Travel Leaders / Destinations Unlimited's Lori Nietert
14-night accommodations, taxes and luggage handling
Airport transfers
Luxury air-conditioned motorcoach transportation
Complimentary WiFi on motorcoach and in most hotels lobbies
Sightseeing and admissions as per the itinerary
14 full breakfasts (B), 1 lunch (L), and 6 dinners (D) as specified
 Not included:
International Airfare (available December 2023)
Airline baggage fees
Tips and Gratuities
Travel Insurance
For more information about this tour and to request a full brochure – call Lori at 319-393-1359 or email: Lori@duagency.com