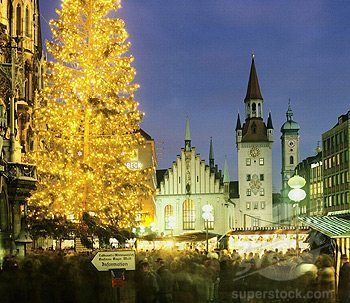 December is an exciting time to be in Europe, with colorful holiday decorations on display and, of course, traditional Christmas markets where travelers can shop for unique gifts while sipping mulled wine or hot chocolate.
Here are a few of the places where the Christmas spirit will be in full swing.
Amsterdam's scenic streets and waterways are illuminated in December as part of the Light Festival. From Dec. 13-26, Museum Square, home to some of the Netherlands' greatest cultural institutions, like the Van Gogh Museum, will be transformed into a Christmas Village, with ice skating, entertainment and market stalls. Another popular spot is Westergas, where old industrial buildings have been transformed into a creative hub, with shops, galleries and restaurants. On Dec. 15, the Funky Xmas Market will highlight the work of local artists and designers.
Frankfurt's Christmas market, which runs through Dec. 22, is one of Germany's largest and oldest, dating to the 14th century. The festivities are centered in Romerberg, located in the heart of the historic old town. A Christmas tree traditionally towers over the square, which will be filled with decorated stalls offering food like bratwurst, mulled wine and marzipan sweets, as well as handicrafts by local artists. Other events will include concerts of Advent music and the chiming of Frankfurt's church bells.
Denmark's capital city of Copenhagen offers more than a dozen Christmas markets. At picturesque Nyhavn Harbor, once home to the Danish writer Hans Christian Andersen, market stalls are set up along the cobbled streets. Tivoli Gardens, an amusement park dating to 1843, is one of the country's most popular attractions. Christmas at Tivoli runs through Jan. 5, with stalls, colorful lights, decorated houses and snow-covered trees, giving visitors a true taste of a Nordic holiday.
At Christmastime, Paris lives up to its nickname, the City of Light, with dazzling illuminations and decorations everywhere. You'll have your choice of about 20 Christmas markets, most set up in Swiss-style chalets. Many remain open through Christmas Eve or into early January. And each market offers something unique. At the Tuileries Garden, next to the Louvre, the Magic of Christmas includes French-produced food and wine, carnival rides and an ice rink. The Saint Germain des Pres market is a smaller one known for luxury items like fine leather pocketbooks, jewelry and handcrafted items.
If you want to explore the beautiful English countryside, head north to the city of York, about two hours from London by train and the site of a Christmas Festival that runs through Dec. 22. York Minster, a magnificent 13th-century Gothic cathedral, towers over the city whose roots date to Roman times. At Christmas, you'll find plenty of places to shop and dozens of events, including concerts of seasonal music and a traditional British pantomime — a fairy tale with a comic twist. This year, it's "Sleeping Beauty."
For help planning a Christmastime European vacation, contact your travel advisor at Travel Leaders / Destinations Unlimited.