Reporting
Comprehensive reporting is the first step in getting you the visibility you need to identify where your cost savings opportunities lie. We offer a library of 700+ reports that can provide you with detailed supplier spend information, average ticket prices, advance purchase summaries, and much more. You'll have a view of your entire organization, by department/cost center, or all the way down to the individual traveler, if you choose. Reports can be distributed at a schedule of your choosing and ad-hoc reports can be run, as well.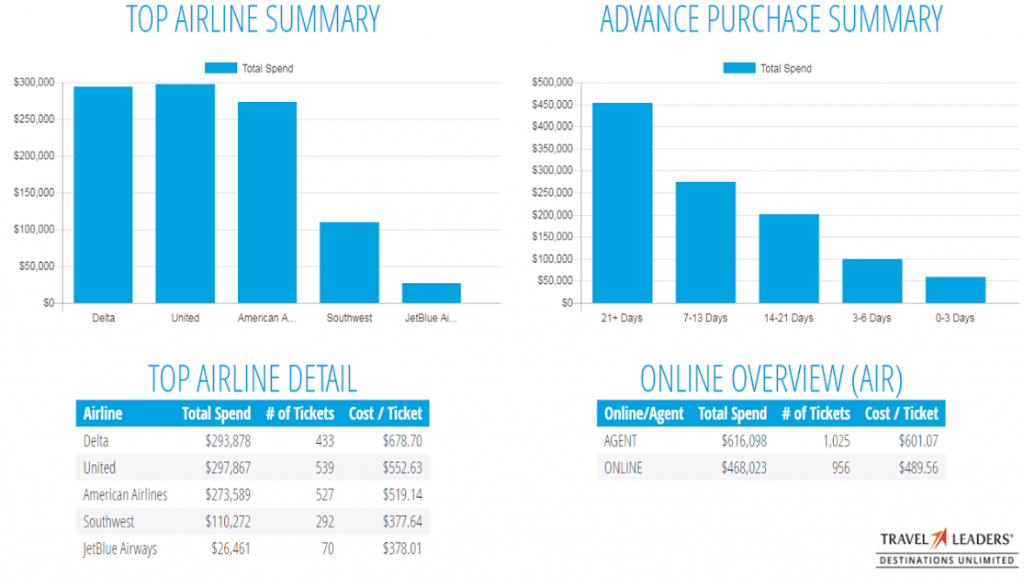 Analytics Tool
Travel data analytics allows you to drill down further into your travel spend numbers. How does your travel program compare with companies similar to yours? Benchmarking your travel program will tell you that. If 20% more of your travelers booked their airfare 14 days in advance, what would that look like in terms of savings? Our ROI analysis can tell you that in a matter of seconds. Your Travel Leaders Destinations Unlimited account manager will help you choose the key performance indicators to focus on and provide you with a strategy for meeting your goals. Proactive monitoring of progress toward your goal achievement ensures that you stay on track.

Click here for a quick reference sheet on analytics.
Continuous Rate Check
As you soon as we book your trip, our mid-office system continually checks your air, car, and hotel reservations for a lower rate. If the rate drops, we can rebook it at the lower rate, saving your organization money.
Online Booking Tools
Your travelers need a quick, convenient way to book their travel online, whether they're at their desktop or when they're on the go with their mobile phone. To that end we offer Concur and nuTravel corporate booking tools. In addition, we have on staff a certified Concur Travel administrator.
Quality Control
Whether you book a trip through an online booking tool or with one of our agents, our mid-office system will perform a quality control scan on that reservation, including low fare, preferred air, car, and hotel suppliers, as well as policy compliance, credit card information, and frequent flyer numbers. Our agents follow up when a reservation does not pass the quality control scan.
Worldwide and Select Hotel Programs
Our proprietary Worldwide Hotel Program offers competitive advantages with unrestricted rates and value added benefits at over 33,000 hotel properties in key business and leisure markets. You'll receive up to 30% off best available rates at properties in 165 countries, 7,000 cities worldwide. Over half of the properties offer breakfast daily, local phone calls, and parking. Over seventy percent offer in-room wireless, high speed internet, and gym access.
For your employees that require four and five star properties for their stays, we offer our Select Hotel Program, which includes 850+ properties worldwide. Guaranteed best available rate and up to 30% off. Amenities offered in the Select program are breakfast for two daily, amenity valued at $100, early check-in/late check-out, upgrade when available, complimentary Wi-Fi and more.
Click here for a quick reference sheet on hotels.
Video – Corporate Client Perspective