Peru
While Peru is a popular destination for those wishing to experience the legendary Machu Picchu, "the Lost City of the Incas," there are other areas of Peru with plenty of exploration. The official language of Peru is Spanish and Peruvians are very friendly and welcoming people that love to share their culture with visitors.
Lima – Peru's capital is on the country's coast and as one of South America's largest cities, it is a common entry by air. While visiting Lima, travelers can enjoy:
The San Francisco Monastery
Local Peruvian food markets and shopping
Plaza de Armas (see the Government Palace and the cathedral)
Park of the Reserve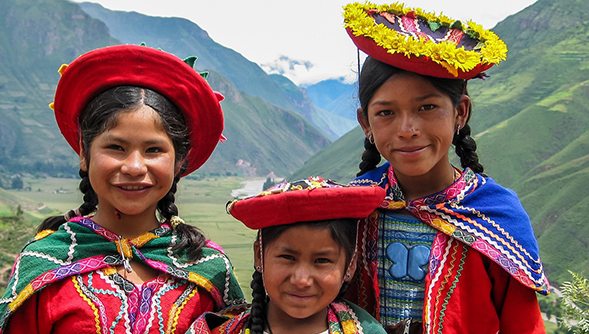 What to Do:
Experience the spiritual journey of hiking Machu Picchu
Visit Lake Titicaca, Arequipa and Colca Canyon further south to experience the impressive geological formation carved out by the river
For animal-lovers, see the llamas and alpacas
Visit the Inca Fortress of Ollantaytambo in Sacred Valley
Travel on the Vistadome train through the lush Urubamba Valley
Cusco is a common stop before Machu Picchu, allowing travelers to acclimate to the higher altitude before hiking Machu Picchu
Fly over the Nazca Lines – a series of drawings of animals and geometric figures etched into the parched soil – only seen from above in an aircraft
Brazil
As the largest country in South America, Brazil offers a wide range of attractions from the beaches to the Carnaval festival culture to the capital of glamour – Rio de Janeiro. The official language of Brazil is Portuguese.
Rio de Janeiro – this 'capital of South America' is the capital of the country and offers beauty, wonder and energy. Travel Leaders / Destinations Unlimited specialized agents recommend the following visits while in Rio de Janeiro:
Iconic Christ the Redeemer statue
Tijuca National Park – a rainforest in the middle of the city with a bird sanctuary
Take a cable car ride to the top of Sugar Loaf Mountain
Join a churrascaria for a traditional Brazilian feast and a samba show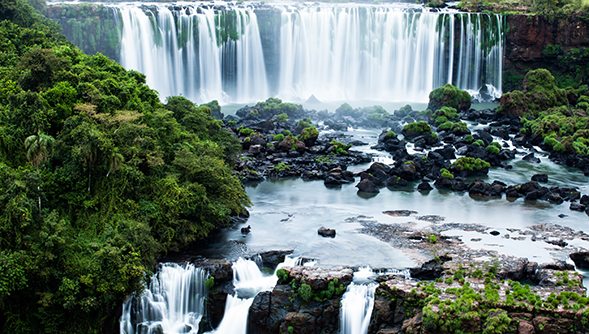 What to do:
Iguassu Falls – this includes over 275 waterfalls and spans almost two miles. It has a side on Brazil and a side on Argentina, both showcasing the waterfalls in a unique way.
Explore Brazil's Amazon River and the Amazon Jungle to see the flora and fauna that thrive in this location

Rainforest walks
Piranha fishing
Monkey jungle reserve
Meeting of the Waters – where the two rivers come together to form the Amazon
Argentina
The South American country of Argentina offers a variety of extreme attractions from cosmopolitan cities to wildlife, to adventure sports, hiking in the Andres Mountains and beaches. The focus of your trip will determine the time of year that is best to go. Remember that because it is in the southern hemisphere, the seasons are opposite of the northern hemisphere.
Buenos Aires – Considered the "Paris of South America," Buenos Aires has European-influenced culture with vibrant sounds and colors. There is plenty of shopping available and colorful surroundings. Here are a few things to do and see while in the capital city:
Shopping
Tango shows
Live music
Flavorful Argentine food
Nightlife
Visit a traditional estancia (ranch)
Visit La Casa Rosada (the President's Pink House)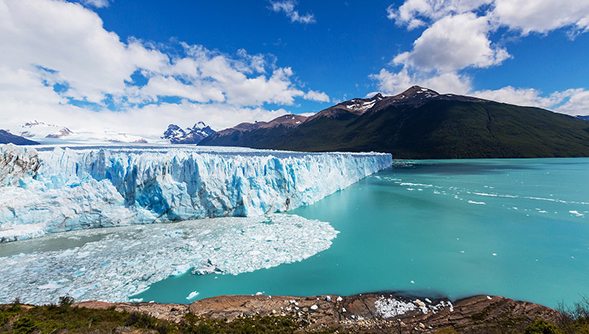 What to Do:
Visit El Calafate in the southern region and journey into Los Glaciares National Park to see Perito Moreno Glacier
Iguassu Falls – this includes over 275 waterfalls and spans almost two miles. It has a side on Brazil and a side on Argentina, both showcasing the waterfalls in a unique way. The Argentine side has an ecological jungle train through the rain forest as well as walkways above the falls.
Drive through the picturesque country